New York here I come....
3:55 PM
I'm getting ready to move back to New York for good. I need to purchase another suitcase because I'll be moving the rest of my things from California back to New York and I have so much stuff! UGH!
I need to get rid of SO MUCH things and downsize. My best friend Joann is already calling dibs on my clothing and furniture, lol. I'm leaving my flatscreen with my parents because they could really use it. =) I'm pretty sure they'll be happy about that. lol
If you're just reading this, you're probably thinking, what the heck is going on? Well, in a nutshell, I'm a Sunny California girl and have been in a long distant relationship with my best friend Tricky who lives in New York. A man, I've been friends with since I was in high school and after 14 years of friendship we've taken our relationship to the next level. We finally decided to put a stop on traveling back and forth between both states every other month and get an apartment together in NYC. Make sense now? lol
You like my pink and white polka dot suitcase? I picked it up at TJMaxx for $20 and the green luggage by is from Vanessa & Angela Simmon's line, Love Pastry collection. I bought the bag in New York for $25. Isn't it cute? Tricky calls my suitcase the pink ladybug. lol The dog stuff animal Tricky gave me which I take with me everytime I travel now.
People ask me often, "You have a lot of clothes, how are you going to transport all your stuff? That's going to be so expensive!"
haha...yes I do have a lot of clothes. I can't disagree there. To answer that, everytime I went back to New York, I would stuff 2 full suitcases full of clothes and shoes and then come back to California after my trip with empty suitcases. That was my trick on transferring my belongings so I didn't have to worry about the cost of shipping my stuff later on. But now this time, this will be my final trip of transferring my stuff and I still have so much! I don't even know how I accumulated so many things throughout all these years. LOL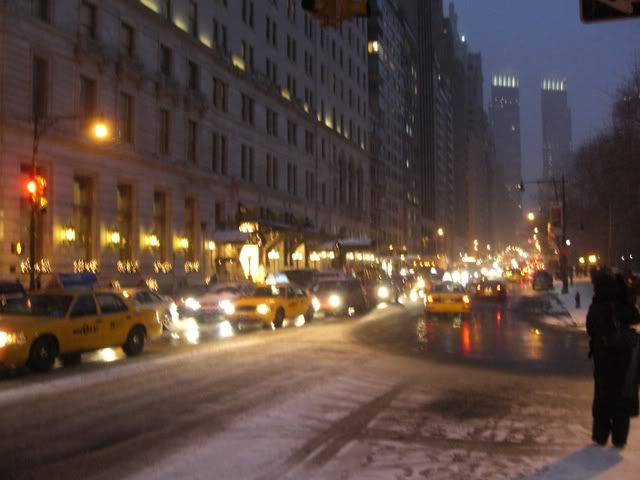 It's snowing in New York
Winter Snow in New York
My boyfriend is already going crazy trying to organize my closet for all my belongings. He's so cute. When he picked out the apartment, he kept in mind of a roomy closet for me. He ended up picking an apartment with a bedroom that has 2 closets. WOOHOO! He even installed this light unit for my closet and at first I thought it was because he wanted to make sure I had enough lighting for when I'm looking for a perfect outfit. But no! He says he installed it so I wouldn't wake him up in the dark when he's still sleeping. HAHA...what a little jerk! It's okay, I love my little jerk. He's been working hard to install shelves and reorganize my closet. He's so adorable...he's trying to make my move as comfortable as possible and has been such a big help in doing so.

It's snowing in New York right now with 3 inches of snow. I've never been in New York while it was snowing so this will be a HUGE change for me. I've been to New York during every season of the year, but somehow I always missed the snow seasons. I don't even have enough winter clothing for that kind of season since I'm a Cali girl. So a total wardrobe change is going to be needed. I'm going to need the help of my NY Fashionista sisters....lol.

I will definitely miss my favorite season of the year in California and that is SUMMER! =(
I'm going to miss going to the beach so much and getting my tan on.
My boyfriend and I already made a promise to go back to California every Thanksgiving...so I look forward to that.

But most of all...I will miss my family and friends. They already knew this time would come, but honestly....time flew by so fast. I'm so excited and nervous at the same time. I'm definitely going to miss all my family and my friends without a doubt.

It's going to be a new chapter in my life for 2009 and I can't wait to share my journey with you.

P.S.

I Love You...